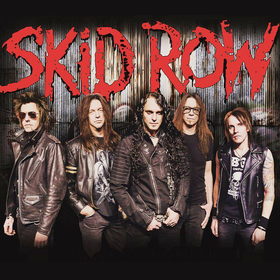 SKID ROW + Support: FM - United World Rebellion Tour
Ernst-Frenzl-Str. 16
93083
Regensburg - Obertraubling
Event organiser: Power Concerts GmbH, Kallmünzer Straße 16, 93133 Burglengenfeld, Deutschland
Information on concessions
Karten für Schwerbehinderte/Rollstuhlfahrer und deren Begleitperson sind nur über den Veranstalter unter der Rufnummer 09471 7038-31 erhältlich.
Event info
Erfolgsalben wie "Slave To The Grind" haben Skid Row zum festen Bestandteil der amerikanischen Hard-Rock-Szene werden lassen. Der gleichnamige Megahit und weitere Titel wie "Monkey Business" verkauften sich über 5 Millionen Mal. Beide Hits werden in der Szene nicht nur als Bandhymnen gehandelt, sondern verkörpern das Lebensgefühl eines ganzen musikalischen Genres.

Große Aufmerksamkeit erregte u.a. ihr Auftritt in der Wembley Arena in London an der Seite von Guns'n'Roses. Bandmitglied Bach las auf der Bühne eine schriftliche Auflage vor, die der Band sowohl untersagte, ihren Song Get The Fuck Out zu spielen als auch das prekäre Fluchwort anderweitig zu benutzen. Natürlich spielte die Band den Song und forderte das Publikum darüber hinaus zu Sprechchören des Refrains auf, was mit dem lebenslangen Auftrittsverbot in diesem Stadion geahndet wurde.

Megatouren mit Bon Jovi oder Aerosmith und der Auftritt auf dem legendären Moscow Music Peace Festival sorgte für einen Bekanntheitsgrad, der weit über die eigenen Landesgrenzen hinausging.