No President. A Story Ballet of Enlightenment in Two Immoral Acts
Nature Theater of Oklahoma &nbsp
Hallesches Ufer 32
10963
Berlin
Tickets from €13.00
Concessions available
Event organiser: HAU - Hebbel am Ufer, Stresemannstraße 29, 10963 Berlin, Deutschland
Event info
In einer Welt, in der der Kunst immer weniger Raum zugestanden wird, bleibt den beiden Schauspielern Mikey und Georgie nicht viel übrig, als mit Jobs bei einem Sicherheitsdienst ihre Brötchen zu verdienen. Ihr neuster Auftrag führt sie paradoxerweise zurück ins Theater: Sie sollen einen Theatervorhang bewachen – und das, was sich dahinter verbergen mag.
Doch schon bald geraten die Dinge außer Kontrolle. Die Wachleute werden von einer rivalisierenden Sicherheitsfirma infiltriert, bestehend aus ehemaligen Balletttänzer*innen. Die Konkurrenz ist ihnen nicht nur künstlerisch überlegen, sondern auch schneller, billiger – und vor allem bereit, jeden Preis für diesen wichtigen Gig zu zahlen. Nach zwei Jahren der Abwesenheit kehrt Nature Theater of Oklahoma ans HAU Hebbel am Ufer zurück – mit einer furiosen Choreografie, die verschiedenste Einflüsse aufnimmt und zu einer politisch-grotesken Arbeit vermengt: Ballett, Stummfilm, Slapstick, Spannungsübungen, tierische Beuteschemata und Modern Dance, begleitet von der Musik des "Nussknackers".
_________________________________________________________________________________________

In a world with less and less space for art, there's nothing much left for the two actors Mikey and Georgie to do but to earn their daily bread by taking odd jobs with a security service. Their latest gig paradoxically brings them back to the theatre. They are supposed to guard a theatre curtain – and whatever might lie behind it. But things are about to get out of hand as the guards find themselves infiltrated by a rival security company composed of ex-ballet dancers, who are not only artistically more up to date, but also faster and cheaper, and who want to take over this important gig at any cost. After two years of absence Nature Theater of Oklahoma returns to HAU Hebbel am Ufer with a furious choreography that draws from almost everything on offer, blending it into a political-grotesque work: ballet, silent film, slap stick, calisthenics, predatory animal behaviour, and modern dance accompanied by the music of "The Nutcracker".
Location
HAU2
Hallesches Ufer 32
10963 Berlin
Germany
Plan route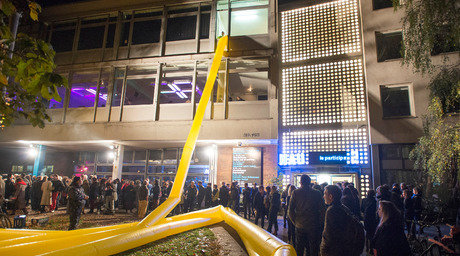 In der Spielzeit 2003/2004 haben sich drei selbstständige Bühnen zu einer neuen, einzigartigen Theaterinstitution zusammengefügt. Das Hebbel-Theater, das Theater am Halleschen Ufer und das Theater am Ufer bilden nun das "Hebbel am Ufer", kurz "HAU".

Hier weht ein frischer Wind, besonders in Person von Annemie Vanackere. Die Belgierin ist seit 2012 Intendantin des Hauses und hat sich voll und ganz der Kunst verschrieben. Sie steht für das Unkonventionelle und sammelte bereits in Gent sowie an der Schouwburg in Rotterdam Erfahrungen in der freien Theaterszene. Sie versteht das Theater als Freiraum, in dem Kunst und Ästhetik jegliche Form der Funktionalität überwinden, wodurch festgefahrene Strukturen und Denkmuster aufgebrochen werden können.

Innovation ist der kreative Motor des Theaters. Das HAU steht allerdings ebenso für Tradition: Sowie das Hebbel-Theater für internationale Gastspiele bekannt war, soll auch das Hebbel am Ufer eine Spielstätte für Künstler aus der ganzen Welt sein. So vielfältig und verschieden wie die beteiligten Akteure, ist daher auch das Programm, welches aus Theater, Tanz, Performance, Musik und Bildender Kunst besteht.