Leonard Cohen Project - SONGS OF LOVE AND HATE - LIVE
Schlossgasse 11
97877
Wertheim
Event organiser: Stadt Wertheim, Mühlenstraße 26, 97877 Wertheim, Deutschland
Information on concessions
Rollstuhlfahrer kaufen sich bitte ein reguläres Ticket, Begleitpersonen erhalten freien Eintritt.
Event info
Songs of Love and Hate - Leonard Cohens Studioalbum von 1971 ist einfach eine Platte für die Ewigkeit. The Leonard Cohen Project hat es sich zur Aufgabe gemacht, die legendären Songs des Ausnahmekünstlers zurück auf die deutschen Bühnen zu holen. Sichert euch Tickets für die Tour 2019 und schwelgt gemeinsam in Erinnerungen.
Location
Burg Wertheim
Schlossgasse 2
97877 Wertheim
Germany
Plan route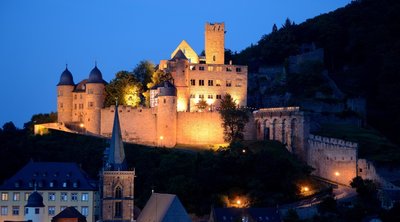 Die Burgruine Wertheim stammt aus dem 12. Jahrhundert und ist somit eine der ältesten Deutschlands. Zwischen Main und Tauber thront sie über der Altstadt und ist nicht nur Wahrzeichen, sondern auch bekanntestes Ausflugsziel der Region.

Schon kurz nach Erbauung der Anlage im 12. Jahrhundert war sie wichtiger kultureller Mittelpunkt der Region: Die Anwesenheit Wolfram von Eschenbachs auf der Burg gilt als sicher. Seit dem Dreißigjährigen Krieg, nach der Besatzung durch Franzosen und einer Explosion, liegt die Burg Wertheim in Trümmern. Mit der steinernen Brücke, den Türmen und Giebel ist sie trotzdem einer der schönsten Orte Wertheims und lädt zum Verweilen ein.

Bei regionaler Küche können Sie sich im Restaurant und Café der Burg kulinarisch verwöhnen lassen, während Sie ihren Blick über die wunderschöne Region und die Ihnen zu Füßen liegende Stadt schweifen lassen. Im Burggraben finden außerdem zahlreiche Veranstaltungen statt: Die Rockkonzerte und Klassikveranstaltungen locken hunderte Besucher an, die sich in historischem Ambiente von Gitarren- oder Streicherklängen begeistern lassen.