Event organiser: rb eventservice, An der Wiedemuth 6, 02708 Löbau, Deutschland
Event info
Die Original – Jukebox Heroes
Jeff Brown gründete die Band 2005. Die Idee der Gruppe war, eine Band von Original Glam Rock-Superstars mit langjährigen Mitgliedern bekannter Glam Rock-Bands zu präsentieren und eine Show von Seventies-Klassikern zu liefern, die Musikgeschichte geschrieben haben.
Erleben Sie songs wie" Ballroom Blitz" und " Fox on the run" von der Band SWEET, "Coz I Luv You" und "My Oh My" von SLADE, "Bye Bye Baby" on BAY CITY ROLLERS, "Angel Face" und "Come on" von der GLITTERBAND, "Chicago Night Died" und "Billy Don´t Be A Hero" von PAPERLACE, "Get it on" und Hot Love" von T-REX.
Jeff Brown – Ex Sweet
Phil Hendriks – Ex Les McKeowns Bay City Rollers
Steve Whalley – Ex Slade
Pete Phipps – Glitterband
Philip Wright – Paperlace
Dave Major – T- Rex
Passend benannt, sind die Original Jukebox Heroes eine Live-Action, ein spektakuläres Select-a-Disc-Erlebnis, das Sie zurück in die Zeiten von Glitter und Glamrock katapultieren wird!
Die Show ist vollgepackt mit Glam Rock-Klassikern und einem spektakulären visuellen Genuss, der das Publikum begeistert.
Die Original Jukebox Heroes waren in Russland und Europa sehr erfolgreich und treten regelmäßig auf belgischen und deutschen Outdoor-Festivals auf!
Das Original-Jukebox-Heroes-Set besteht aus Songs der jeweiligen Bandmitglieder wird mit ganzer Hingabe authentisch gespielt. Alles 100% live, immer!
Videos
Location
Stadthalle am Steintor Bernau
Hussitenstraße 1
16321 Bernau
Germany
Plan route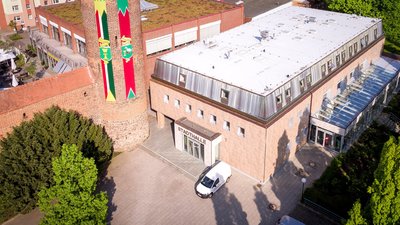 Kultur, Spaß und Lebensfreude – diese unschlagbare Kombination ist in der Stadthalle Bernau an der Tagesordnung. Mitten im Herzen Bernaus bei Berlin gelegen, hat sich das beliebte Veranstaltungshaus aufgrund seines bunten und erstklassigen Event-Programms über die Jahre einen ausgezeichneten Ruf erarbeitet.

In einem großen, mit modernster Technik ausgestatteten Saal können bis zu 400 Personen bei den Veranstaltungen dabei sein. Egal ob Comedy-Show, Live-Musik, Theateraufführung, Musical, Filmvorführung oder Feier: dank brillanter Akustik und hervorragender Atmosphäre wird hier jedes Event zum unvergesslichen Highlight. Eine weitere Besonderheit der Stadthalle ist das sich in unmittelbarer Nähe befindliche Parkhaus, in dem Besucher die ersten drei Stunden vollkommen kostenlos parken können.

Die Stadthalle ist die Location schlechthin in Bernau, wenn es darum geht, einen wundervollen, spaßigen, glanzvollen und garantiert unterhaltsamen Abend zu erleben. Überzeugen Sie sich selbst!