Event organiser: Missmilla GmbH, Holzstraße 28, 80469 München, Deutschland
Event info
Let's dance!

El Flecha Negra charges the room with boundless positive energy and spontaneous magic. The "Black Arrow" has struck its target only when the room is alive and everyone joins in on the party.

El Flecha Negra is a roaring musical river fed from various cultural sources. With musicians from Chile, Peru, Spain, and Germany they merge traditional styles like Cumbia and Reggae with Mestizo and Peruvian Chicha sounds. A wild and unique blend that flows together straight into the heart!

With their latest album "Tropikal Passport" the band delivers a danceable yet profound statement, combining South American roots with Caribbean ease.

In the summer of 2014 El Flecha Negra began as a busking trio with guitar, upright bass, cajon and three-part vocals, and quickly became a sought-after live band renowned for their energetic shows. In 2015, El Flecha Negra released their debut album "Schwarzwald." They played over 200 concerts in Germany and its neighbouring countries. In 2016, they went on a wildly successful tour through Chile.

Recording "Tropikal Passport" allowed the band to develop their sound further. With the addition of two trumpets, drums, traditional flutes, and a psychedelic Chicha-guitar, El Flecha Negra grew into a quintet – A charismatic, multicultural band from four different countries and two continents.

The thirteen songs of "Tropikal Passport" tell of hopes and dreams — different continents becoming one, of freedom and love, of setting out on a journey, as well as of being allowed to stay and enjoy life in a new land — these are their personal stories that brought them to where they are today.
Location
Milla Club
Holzstraße 28
80469 München
Germany
Plan route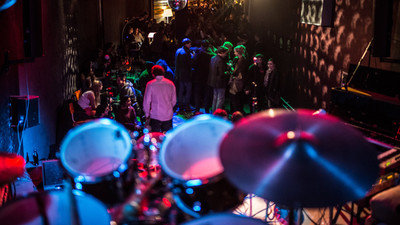 Klein hat sie angefangen, die Milla in München. Mittlerweile stehen aber so gut wie jeden Abend Künstler der verschiedensten Genres auf der Bühne des kleinen Lokals, gelegen im angesagtesten Viertel Münchens, das Glockenbachviertel. Das Ambiente des Live-Clubs ist einzigartig. Ein langer schmaler Raum (früher lief hier ein Bach entlang) ist ausgestattet mit alten Polstersofas und rustikalen Holzbänken und das Bier könnte auch mal kippen, denn alles ist leicht schräg.

Schräg. Das beschreibt die Milla eigentlich perfekt und das ist, was die Gäste an dieser Lokalität so lieben. Auf die Idee einer solchen Bar kommt auch nicht irgendwer. Nein, Gerd Baumann (Musiker und Komponist), Peter Brugger (Sportfreunde Stiller) und Till Hofmann (Betreiber des Münchner Lustspielhauses) sind die Initiatoren der Milla. Bei so viel Prominenz kann es dann schon mal vorkommen, dass die Schöpfer selber mal auf der Bühne stehen und ein bisschen rum experimentieren.

Die Milla hat Charakter und ist so ganz anders als die anderen Bars und Clubs in München. Und genau das macht sie so besonders und ist auf jeden Fall einen Besuch wert. Sie erreichen die Milla am besten mit den Öffentlichen Verkehrsmitteln. Von der Tram- und U-Bahnhaltestelle "Sendlinger Tor" bzw. "Fraunhoferstraße" sind es nur wenige Gehminuten in die Holzstraße.